January 20, 2018
Excerpts from my journal over winter break.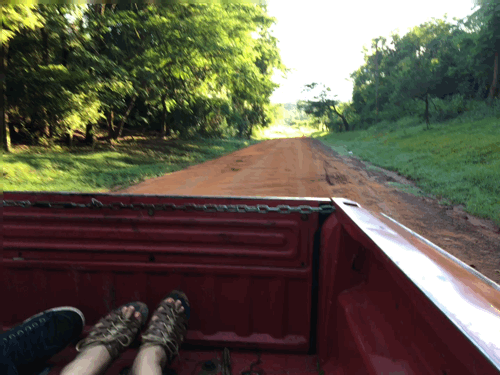 December 18, 2017.
Hey! I'm spending this Christmas in a small community called Caroveni, about 20 minutes (by moto) outside a city called Villarrica, or "el centro." I came here one summer in high school on a service exchange trip. I'm back now just to visit and travel around. Five years ago, I made some friends and little sisters. Every day that summer, we'd climb trees and eat pomelos and play soccer and sing in Spanish. I was happy, and I never had sisters before, and here all of a sudden I had like nine. So I told them I'd come back. A lot's changed, and we're all older now.
Auxi, short for Maria Auxiliadora, was seven and crazy and the most talkative sister ever. Now she's 12 and mature. She still cackles the same, though. Yannina was nine, now she's 14 and helps translate Spanish I don't understand. She wants to be a criminalista, a criminal lawyer. She's so patient. Liz Margarita is 18 now, and so impatient. Quip master. Too sarcastic for my rudimentary Spanish. We went on a 17km pilgramage the other day to the nearest river by foot. At 8pm. I was jetlagged and trudging along in the dark and she nudges me like, "you good? We can totally, totally sit down!" I want to master Spanish just so I can have better comebacks to Liz. Alejandra, now 10, is still the same silly girl.
Today I went to Villarrica by moto and withdrew some money. After, I hung out with Auxi and Alejandra, Ale for short. We picked some mangos from behind Ale's house/her mom's store, and ate them as we sat on her porch. In Caroveni, everyone's always sitting on their porch, greeting passersby that stroll by on foot or zoom past on their motos. Some stop to say hi, sip mate or terere, buy something at the store. I make Spanish small talk to the best of my ability, but they usually resume talking to each other in Guarani, the native language.
We played soccer until dark, then I came home with Auxi. I'm staying with her family right now. Her parents rarely speak to me, but her mom, Marlene, is funny. I told her once that dinner was delicious, and she replies in English, smiling at me straight in the eyes, "I know." I asked her another time how her day was and in the middle of folding a shirt, she smiles at me straight again and says, "super."
December 19, 2017.
Today was a pretty happy Tuesday. I got to ride motos and go to Villarrica and play soccer and eat lots of bread. I was just woken up at 10pm here to eat some eggs because I missed dinner coming home from the soccer field too late. Right now, just before bed, Auxi and I ate and chatted as the History Channel played.
"Cual grado estás en universidad?"
"Hay cuatro grados, y estoy en el tres. Casi termino, pero no sé que voy a hacer después."
"Qué es tu sueño?"
"Sueño de trabajo o qué? De mi vida?"
"Tu vida."
"Bueno, en este momento, quiero diseñar una ciudad."
"Ay, qué sueño."
"Sí. Me interesa mucho. Soy una diseñadora, y una ciudad es la proyecta más grande. Qué es tu sueño?"
"Nada. Solo dormir."
"Vas a dormir por siempre?"
"Por 24 horas."
"Pero después colegio, qué quieres hacer?"
"No sé. Dormir."
"Es importante que duermas."
"Sí."
"No entiendo esta programa."
"Yo tampoco. Voy a dormir."
"Bueno, yo también. Good night."
"Que dijiste?"
"Good es buenas, y night es noches en ingles. Good night. Y por la mañana, vamos a decir good morning para buenos días."
"Bueno. Good night Jenny."
"Good night."
Off to bed. Good night.
December 20, 2017. Morning.
I woke up this morning to rain. It's summer here, and it's supposed to stay sunny, humid, and above 90. When it rains, no one does anything.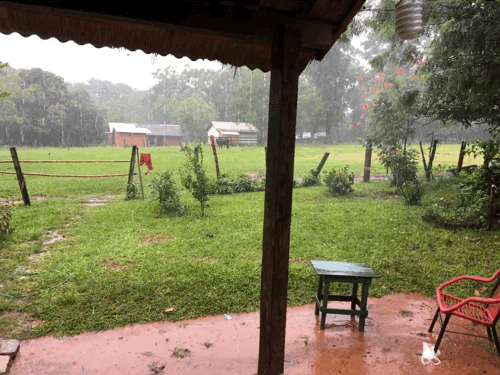 I'm sipping mate dulce (mate with a shitload of sugar) and eating pan dulce and a dessert called pastaflola with Auxi on the couch. We're watching Disney Channel and I'm writing. Her parents are sitting and watching the rain on the porch. The rain and birds shimmer. The world outside this house is in a dream. Leaves and cows are suspended like the gray sky above. It's humid but breezy. I know no one is outside today. No one will work or go to the centro. We will sleep all day instead.
December 20, 2017. Evening.
Hey! Just took my first baby wipe shower while here because there was no running water. How crazy! I feel pretty sticky and nasty—yikes! But that's okay… Today was nice. It stopped raining. All I've done in Caroveni is eat mangos and pan dulce and draw and read and play soccer. Life is better with dessert and lots of fruit. I'm a big fruit gal. Natural sugar. Real and sweet.
Tonight, I went with Auxi to Maria Ines' house. Maria Ines is 15 and sassy. I like her a lot. We had lemonade and beans and we talked about what we want to be in the future. She wanted to be a lawyer, an engineer, a veterinarian. She's on orthodontist now. She wants to be a lot of things, like me.
December 23, 2017.
I had a weird raised streak on my arm that was strangely bumpy and suspicious. I was so scared. Auxi didn't know what it was either, but she told me to ask her mom, Marlene. I was terrified. Last time I was in Paraguay, I had all sorts of strange bug bites. A bug even laid eggs in my foot. I was very uninterested in reliving those experiences.
Marlene looked at it for two seconds and said, "it looks like dried soap to me."
I showered and it was totally just soap.
December 24, 2017.
Today kind of sucks. I really hate being here right now. Language is hard. Everyone speaks Guarani and nobody understands me. I'm sad. I'm not sure how to fix that. Why can't I just be happy with what I can give? It's raining too.
Today's been so uncomfortable! I haven't been this uncomfortable in so long. I'm wasting today.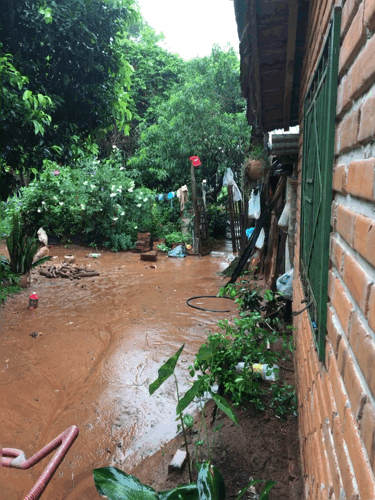 December 26, 2017.
Christmas was weird! But also fun! We ate dinner at midnight. After, some of us drove around Villarrica in a red pickup truck. Everyone in the city was out on their porch celebrating. We went to a club and danced until dawn. We drove back into Caroveni and I milked a cow. We rode around on motos. I ate my weight in my favorite Paraguayan food, chipa guasu. We also went swimming. Sorry this recap sucks. I haven't slept since Christmas eve…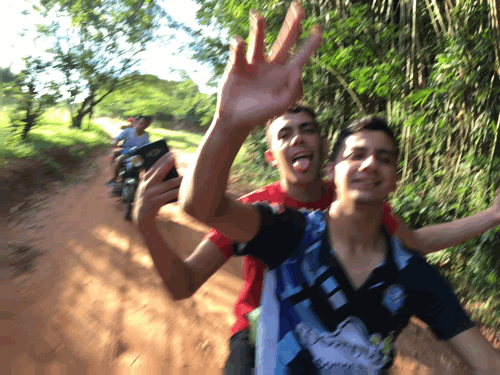 January 1, 2018. Evening.
I found a pen! We're back online, folks.
What a week! Felix año nuevo, I can't believe that it's 2018 and how in love I am with my life. But it's been a weird week since I've last written. It always is between Christmas and the New Year. Emotional rollercoaster. Despite all my shit, I'm a grateful, thankful piece of love. I can't fathom what has put me in the places I've been on this planet. Life, even in the last couple of weeks, has made me cry and laugh and itch and bleed. But it feels good to share in this world of experience, to contribute. How cheesy! How full of love I am!
Last week I traveled to Ciudad Del Este. It was great. I forgot my journal, but I'm going back absolutely. Right now, I'm counting my remaining moments in this country. I have one last day on this planet in my current place and time zone. Not sure if I will be back or feel this way again. Weird how our reality can shift and change, but life is still only what's we experience in the present. We hear what we hear in the moment, and it's not really a song until we think about the past notes…
Last time I traveled this far, I had braces. I knew very little. This time, I actually forgot my retainer. I know a little more. It's been a test of what I've learned. I fell into routines I tend to fall into when in a new situation. Sometimes, I'm blithely accepting of every person and situation. I wasn't genuine to myself, to my bad days, to my goals, my interests. But now I know that I'm every thought that has passed through my head. This was a test to see how much I could retain, how much practice it would take to be the same person every where…
My life has been a beautiful song, punctuated with experiences beyond my own and much ahead of myself. Future feelings visit me that I don't understand. I think I have a condition that people would call intuition…
January 7, 2018. 6:44am, back in Los Angeles.
Good morning. I'm so jetlagged and in my own head. I'm an overthinker, oversharer, an insomniac, a hedonist, a romantic. I'm five hours ahead and five years in the past. Confused as ever, landing in the same places, same airports, same shoes. Familiar face, same name. Good morning.
This is the year I enter my third decade. Third is the one with the treasure chest. I am so excited to learn so much more, on my own terms, forever. I've earned good habits. I'm so proud. I feel more open, happy outside of my being, brave. There is so much I don't know. I've mastered so little. I feel like a kid. Getting excited about the little things. A new pair of shoes. A good idea for a graphic. Making a new friend. Loving a song, so, so much. Dancing. I feel like a kid.
I had a full day layover in Lima, Peru on Thursday. I got dressed up at the airport, left my luggage in storage, and walked up to the first taxi driver I saw. I asked if he had an iPhone charger, a map, and an empty day. He did, so we drove to the first place I wanted to experience. On this breezy, overcast day, old sites were new sights from my rolled down passenger seat window. We made small talk over a criolla song on the radio.
"Y cuantos años tienes?"
"Veinte."
"Veinte? Jovencita!"
"Sí!"
"Veinte. Cuídate. Es un buen momento."